Certified Parking Professional Course

Certified Parking Professional Preparation Course
Monday, October 22

The Certified Parking Professional Preparation Course is an intensive 1-day study program for those seeking to earn the NPA's coveted CPP designation. The program is facilitated by members of NPA's Certification Advisory Board (CAB.) The program is a blend of class-room instruction, facilitator led discussions, practical exercises and group work.
Who Should Attend?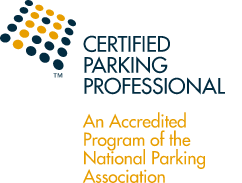 The CPP Preparation Course program is relevant for all parking sectors:
Commercial
Municipal
On/Off Airport
Valet
University
Healthcare
Industry suppliers
Why Attend?
The CPP Preparation Course is designed to help participants prepare to take the CPP certification exam.
Attendee Takeaways:
Successful studying techniques for the CPP exam
CPP learning resources, where to find them and how to use them
CPP practice exam questions – what the question is really asking – where and how to determine the correct answer.
Selected CPP Study Guide Chapters
The CPP Course Includes:
1-Day instructor-led study course
CPP course materials and workbook
4 Credit hours towards NPA Certified Parking Professional (CPP)
Early access to NPA opening reception
Preferred seating at the opening keynote event
Course Fee
The fee for the CPP Preparation Course is complimentary with 2018 NPA Convention registration.
Register Now >>

Get Certified:
Attendance at the CPP Preparation Program provides 4 continuing education (CE) hours towards the CPP designation.
Learn more
.
---
"I chose to earn my CPP designation to help set myself apart from the competition, increase my parking knowledge, and get more involved in the parking industry."
Andy Cushman, CPP
Director of Operations, LAZ Parking, San Diego
Learn more about the prestigious
NPA Certified Parking Professional certification.
Sponsored By: